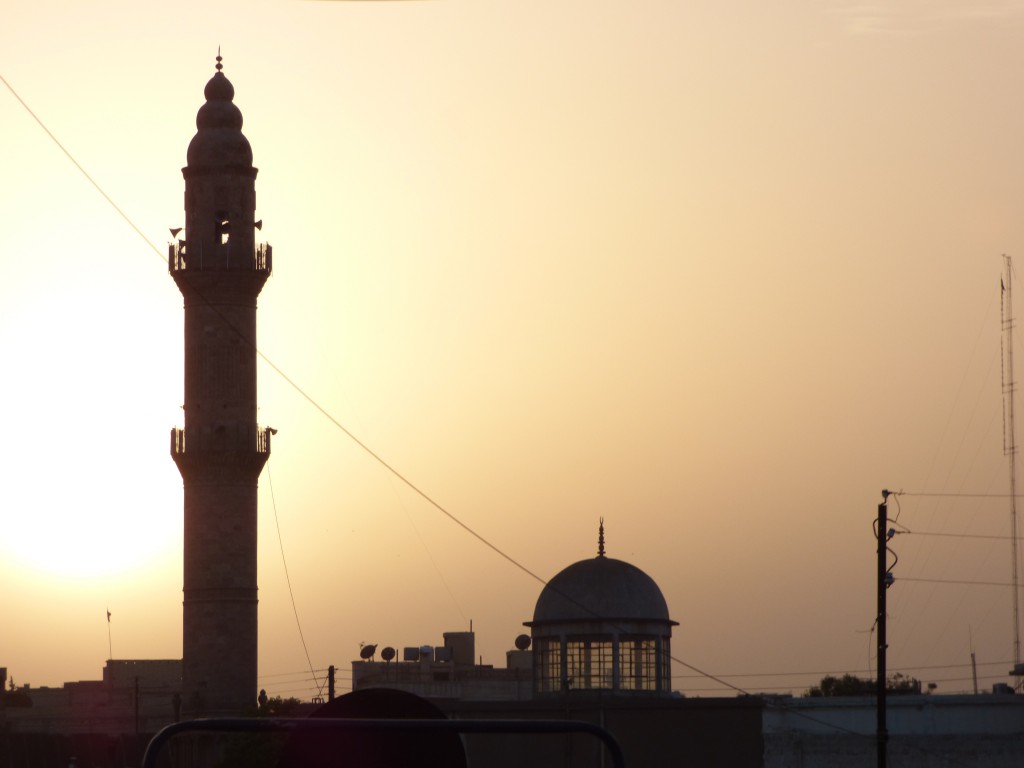 El Errante
It is dark in Kobane, far darker than what you'd expect for a city of 150,000 souls. A few lights wink and crackle out of the encroaching dust and night, and the stillness is broken by the noise of grinding electrical generators and the sound of dumptrucks being filled with rubble and then driving off to one of the dumps outside the city center. It's almost a year since the siege and there is still no electricity. I am sitting on a porch of the only real hotel in Kobane sipping (yet one more) sweetened tea in a glass. I'm glad I made it from Amuda to here, the road was long, the road was creepy, but now, the road is over.
My driver picked me up at 6am in the morning after a sleepless night at a YPG outpost in Amuda. As I walked out the door a YPG soldier threw me a warm pita. I folded it into quarters and put it into my shoulder bag — something to eat on the way. I left way too early to have breakfast. The guy who picked me up, Salah, was driving one of the ever-present white Hyundai (or Toyota) vans, I crawled in the front and we sped off. It takes four hours to get from Amuda to Kobane, assuming the road's not closed for any reason.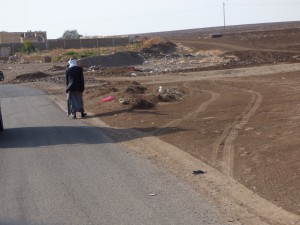 The scenery was pretty much the same between Amuda and Serekaniye, more villages, hundreds of villages, and fields that were not fallow were filled with cotton and melon.
Between the border with the KRG and Serekaniye there's very little to indicate that that the Kurdish Autonomous Region is at war with anyone. Once into Serekaniye that impression dissolves rapidly. Large buildings are studded with pockmarks from small arms fire, and here and there one shows signs of being hit by larger ordnance. In fact Serekaniye was one of the side battles fought prior to the Siege of Kobane in November of 2012. It lies directly on the road to Kobane, sits right on the Turkish border, and if it had been taken by al-Nusra (the Islamist terrorists de jour at that point) Kurdish supply lines to Kobane would have been severed. The YPG responded rapidly to the threat and fought viciously, eventually routing the jihadis. The area around Serekaniye is still somewhat contested though final mop up conducted during the spring seems to have ended any military threat of losing the city.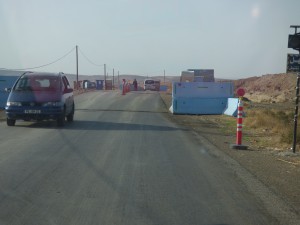 And on the road one can see just how serious the YPG/J and Asayis take the threat — multiple roadblocks and traps are set between Serekaniye and Kobane. The militias have no intention of paying twice for the city of Kobane. At one point we passed a mine that had blown out half the road and eventually were brought to a stop by heavy construction equipment. A rocket had hit the road in the night and it was closed definitely. My driver shrugged, and we set out across a dirt road to go around the obstruction. We had gone about five miles when we encountered an Arab militia checkpoint. Salah pulled up spoke a few words in Arabic and then asked quite clearly, "YPG?"
To which the response was a headshake and the mumbled acronym in Arabic of some other militia. My driver winced, and we drove on. This is where my nerves started get the best of me and I had him stop and reassure me that it was okay. He shrugged and said, "Syria." I then knew where we were. In some of the areas of Rojava small enclaves have declared for Syria, this includes the section of Qamishli next to the Turkish border, and evidently the tiny village we were driving through — as evidenced by a Syrian flag floating proudly from a telephone pole. A few more turns and we were back on the road headed to Kobane, passing an Asayis or YPG checkpoint every ten miles. Landmarks I had come to appreciate and look forward to for a variety of reasons.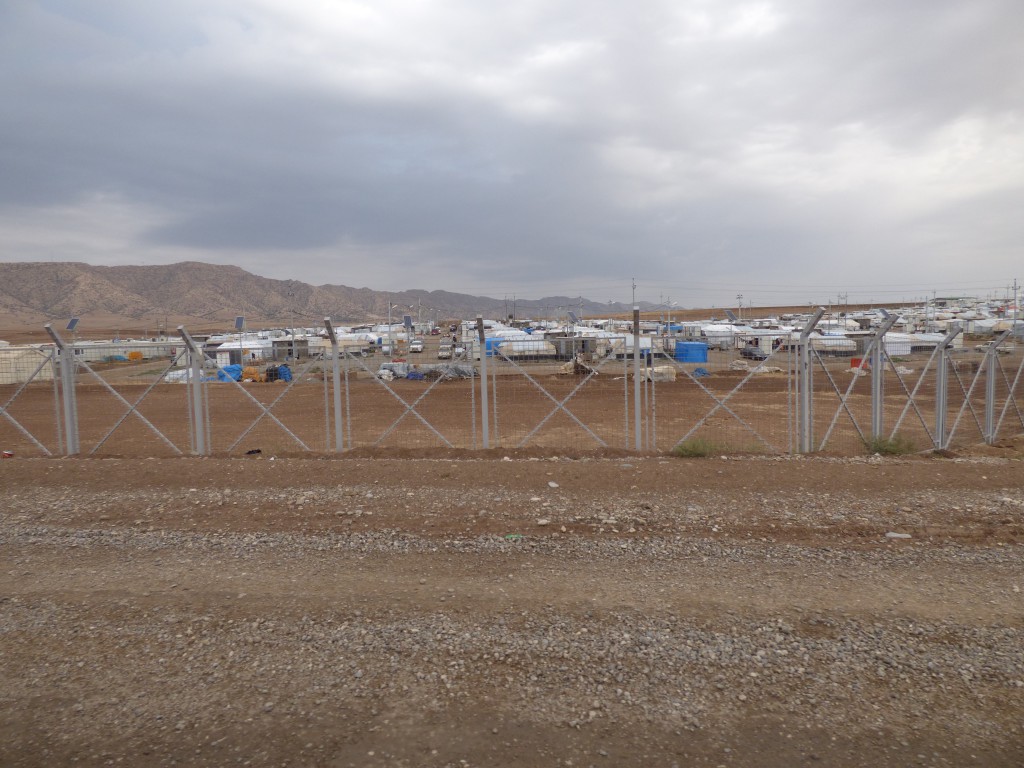 On the last approach into Kobane from the east you are finally aware that, yes, you are in a war zone. A large ridge of earth has been erected effectively screening the city from approach and every here and there tank traps can be seen jutting out from the sand. Passing this earth wall the city rises up and shows its wounds. Large areas of the outer city have been turned into great dumps of concrete, twisted steel and burned out cars. Then a building catches your eye, it is only half standing and leans oddly against its neighbor; its floors in various states of anti-Euclidean geometry. By the time you come to the city center you encounter whole blocks razed, pounded to rubble, and here and there one sees a building untouched by even small arms fire surrounded by the hulking wrecks of its former neighbors. Luck counts. The streets are dusty, and an occasional water tanker passes in a vain attempt to keep the air breathable. This in combination with the backhoes digging out the wreckage one scoop at a time and the constant movement of heavy trucks as they take the detritus to the growing concrete and steel fields ensures that Kobane is almost always drowning in dust. In fact my first night I walked out at twilight and the city looked more like an impressionist painting by Monet than anything else. Buildings melded into each other in the dust, colors and shapes softened and were lost. A blurred x-ray of a city.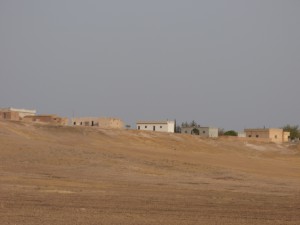 In spite of this people move to Kobane daily, in fact with the cheap real estate — you pay what you can afford — there something of a run on property. As an example an Arab man I spoke to bought a house, complete, for around 15,000 Syrian Pounds ($80 at today's exchange rate). Not bad.
It's late, I'm tired and have developed a serious negative attitude towards the Syrian squat toilet. Tomorrow it's time to look into the issue of revolution, and speak to the residents of this city in the process of slow rebirth.