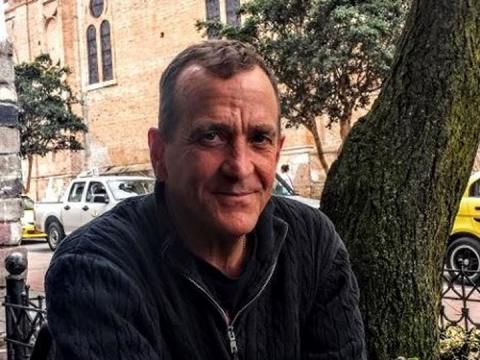 Our friend and comrade Paul Z. Simons (El Errante) has passed away apparently from a heart attack. He is survived by his 5 children, Nina, Hannah Simons, Max Errickson, and Tristan and Jack Simons.
He was born in Utah. He liked to say he was born an illegal, to an unwed mother, Ginger, in a state where is was a crime to have a child outside of wedlock. He was adopted by Daryl and Irene Simons at birth. He has 4 siblings, Steve and Robert Simons, and James and Elizabeth Ables.
To help his family deal with the financial burden of this death https://www.youcaring.com/thefamilyofpaulsimons-1155173
Nina writes that "Paul was a complex person who was loved by his friends and family, and the dozens of communities he gave voice to through his writings and adventures as a journalist. Paul was a soul searcher to the end, a fearless adventurer, a rebel, a lover, a father to myself, Hannah, Max, Tristian, and Jack. He was a brother, a cousin, an uncle, a son. Paul's death was very sudden and unexpected, he left very few worldly possessions behind. Because he was far from home when he died, there will be a substantial cost to bring his remains home. It will take the effort and contribution of his community to properly lay him to rest and give his friends and family the opportunity to mourn his loss."
Paul was co-editor for the Modern Slavery journal where much of his recent journalistic writing can be found, and he contributed to Anarchy: A Journal of Desire Armed from the '90s up to its move to the SF Bay Area in 2005. His essays are also on The Anarchist Library web site (https://theanarchistlibrary.org/category/author/paul-z-simons) and can be found on anarchistnews.org. He was involved in the Lower East Side scene in NYC in the '80s. Stories and essays from that time are collected in his Black Eye zine anthology published by LBC (https://littleblackcart.com/books/anarchy/black-eye/). In the last few years Paul was intensely involved in letting the world know more about the often anarchistic and revolutionary resistance in Rojava, while also reporting on the anarchist milieu from Paris, Athens and Sao Paulo. We always looked forward to his visits here whenever he traveled through California, which will sadly be no more. The upcoming issue of Modern Slavery will include some of his yet unpublished fiction.
Paul will be missed by many, even by those who had yet to meet him, but who have been touched by his essays, stories, interviews, poetry and fiction. We are proud to have worked with him for the last few decades. It was not always easy, but together we were able to publish much important material during that time. So long, Paul.