So after sitting on the fence for the better part of a year, I have to commit to support for and defense of the Rojava experiment, and particularly our comrades
Modern slavery should need no introduction. Modern slavery already intrudes into every aspect of life, debasing all it touches. It is the underlying organizing principle for all major economic institutions east and west, north and south. Its support and defense are the unspoken but automatically-understood objects of all major – and the vast majority of the minor – social, political and cultural institutions. Its infrastructure and demands extend into the deepest levels of modern consciousness, coloring our dreams as well as our nightmares. Yet modern slavery is largely invisible.
Modern slavery is officially non-existent. It has been tossed down the memory hole. It is not spoken of in polite company. Every institutional and government functionary, from the lowest levels of bureaucratic purgatory to the upper levels of elite power, knows instinctively that any explicit mention of its name as a contemporary reality means instant social death within the hierarchy. It is a rare day when it is acknowledged in any public context, even by the most radical or reckless of iconoclasts. » Read more..
Fire Relief for AK Press & Friends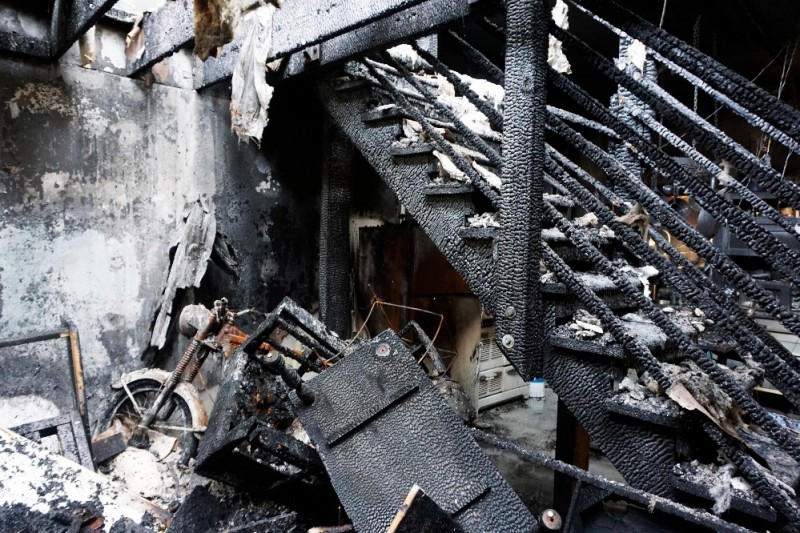 In the early morning of March 21, the building behind AK Press caught fire. Two people lost their lives. The fire  moved to the mixed-use warehouse building AK shares with 1984 Printing and 30+ residents. Everyone in the AK building got out safely, but several units were completely destroyed. There was extensive water and smoke damage to other units, including the ones occupied by AK Press and 1984 Printing.
On the afternoon of March 24th, the City of Oakland red-tagged the building, which prohibits AK from occupying it. AK doesn't don't know how long this will last, but it obviously means AK can't conduct business as usual.
Many of you support what AK Press does. Although many of our readers may not realize it, among many other publications AK also distributes Modern Slavery. A lot of people have been asking what is the best way to help AK in the midst of this disruption. AK reports that already the outpouring of support and mutual aid has been amazing, and AK has raised some emergency funds from donations via PayPal and has organized the coordination of a larger fund drive. Please consider helping out AK.
My Date With Sam Dolgoff
(a shared memory)
( Note: the "My Date…" series of articles stretches back as far as the mid 1980's and was begun by an article written by a woman attendee at anarchist functions in NYC. Her article, My Date with Holly Near, is a brief fluffy piece about an outing she and the singer had which evidently ended in some very earnest and breathy sex play. At that time Holly Near had dated (and fucked) almost every identifiable female anarchist in NYC, and the article may have been an attempt to record this historic campaign for posterity. Shortly thereafter Bob McGlynn wrote his "My Date with Holly Near," which is a fantasy piece in which he and the singer drink beer, go bowling, and then stomp the lungs out of a bunch of malicious bikers. By far the most famous entry is Bob Black's My Date with Jim Hogshire, which is an account of the notorious evening of February 10/11, 1996, where Black, who was to stay at Hogshire's place, had a falling out with his host, allegedly groped Hogshire's wife, was threatened with an M1 rifle and then was shown the door. This resulting article is classic Bob Black, and the vengeful aftermath includes a court case that stemmed from an issue Hogshire had with the local constabulary regarding the legality of making opium tea out of dried poppies purchased at florist shops. Hogshire unfortunately still has not written what he may have been put into this world to write, the response titled My Date with Bob Black.)
Suffice it to say that by 1985 or so I had become an anarchist with all the attendant vices and virtues, I hated the state, I lived on the Lower East Side, I attended interminable meetings; I read much and worked little. The city had two operating anarchist groups that I knew of, and I was a part of both, the Libertarian Book Club, and the Anarchist Switchboard. There were a lot of folks through each of these, but mainly a hardcore group of about 20 souls maintained the beating heart of anarchy in those foul years of Reagan and his ilk, which proved the truism that in any society the scum eventually rises to the surface to be drained off by history. I had been friends with Lauren for several months and she had called, said she was on her way to see Sam Dolgoff and invited me along. I met her at the Anarchist Switchboard that March afternoon in a cold, pouring rain. She said that we should just walk to his apartment as, other than busses, no trains would put us anywhere near his place. I asked where that was and she said that he lived in a building for retired members of the NY painters union. There are dozens of these union administered retirement buildings throughout New York, and though they resemble housing projects, the insides are better kept, and they have built-in meeting rooms and offices, some for the unions, some for rent. The Libertarian Book Club's monthly events were held at a large meeting room in a union retirement home a few blocks down Seventh Avenue from Madison Square Garden. Even then, and in spite of the prevailing political climate, the unions would let the anarchists use the room—it was pretty cheap too. Lauren had made it her business, at the young age of 20, of bouncing around New York and introducing herself to as many of the old time anarchists, the Dolgoffs, the staff of the then recently defunct Freie Arbeiter Stimme (The Free Voice of Labor)—the Yiddish anarchist newspaper that had been going since the twenties, Vilario—an old Italian gentleman who at one time was involved both with the Galleanist's and (it was rumoured) also Malatesta. Finally she had met Mel Most, who it was believed was related to Johann Most—a cousin or nephew—who for years had been running an outreach and service agency for prostitutes working on the Lower East Side. So this trip to the Dolgoffs was just her doing her best to string these old time anarchists to the younger punk anarchist scene—I guess to maintain some semblance of continuity.
It had to happen, was only a question of time really, that somewhere some unlucky police/espionage/or military agency would inadvertently recruit and train an individual with a conscience of sufficient substance such that you can't pass your hand through it.
It makes perfect sense that the Los Angeles Police Department drew the unlucky number. Without rehashing the history of this sorry-ass agency, the beatings of black motorists, with supervisors watching and applauding, the false testimony that convicted hundreds sending these poor folks to prison, and finally like a phoenix rising from the ashes leaving behind the entire sordid mess to once again come crashing down into the shit that these officers wallow in and call a career. Two steps forward, six steps back…
Enter Chris Dorner, trained killer, Navy man, and ex-LA cop who during a training run witnessed a training officer assault, kick and beat a homeless, helpless mentally ill man just for the fun of it–I guess. I mean I believe the LAPD thinks its fun because they sure as hell do enough of it. Dorner was thrown off the force and has now turned on his previous oppressor/employer in what can only be called a wage slave revolt of furious intensity, and deadly precision.
Therefore, I ask– I implore all anarchists who may find themselves in a position to assist Dorner to reach a country without extradition to do so, and to provide to him with all aid, comfort, and protection possible–before the law and order bloodhounds shoot him down in his tracks. And in the unlikely chance Chris Dorner reads this, your heart beats with mine and many others. If you can–stay alive to tell your story, either with words or bullets–Stay Alive!
Bob Black is author of many interventions, as well as a number of books, including The Abolition of Work and other Essays, Anarchy after Leftism, Beneath the Underground and Friendly Fire, along with the yet-to-be-published, Nightmares of Reason, and his latest work, Defacing the Currency: Selected Writings 1992 – 2012. He has contributed to many periodicals, including Anarchy: A Journal of Desire Armed.
Susannah Clemence. "Forty-odd years ago in a blacked-out West London bathroom, I was shown how to rinse a silkscreen. A bayonet-armed soldier charged above the slogan,
`DO NOT ADJUST YOUR MIND THERE IS A FAULT IN REALITY'
I want to address the fault. To confront reality, we must see it as it is — that is the function of my art."
Chuck Dodson. "Self-taught critical thinker, into mixing creatively intelligent surrealism with decolonization awareness. WalkiNg with post-left anarchist critique (tho realizing the value of confrontational nonviolent-orientations) and unsettling settler mentalities, via a self-theory of continual process-oriented "span-aRchy"; –keeping "spans" or informal bridges with aLL human beings (not roboticized machines), while systematically demystifying social control alienation tacts. A deep background in queer and youth solidarity dariNg, amongst a wide swath of other topics. Seeking not `revolution' but evolution of mind-set, walking thru FEARs as a spirituaL path. (da Visionary Report is one of his projects.)
Karen Goaman has a PhD in Anthropology, University College London. She has written numerous articles in anthologies (2009, Jun & Wahl eds., New Perspectives on Anarchism; 2008, Roca Martínez ed., Anarquismo y Antropología; 2004, Purkis & Bowen eds., Changing Anarchism; 1997, Purkis & Bowen, Towards a 21st Century Anarchism) and in Anarchist Studies. She has worked as a Senior Editor in book publishing and as a part-time Lecturer in Communications at London Metropolitan University.
Manolo Gonzalez grew up a child of the Spanish Revolution in Barcelona, before leaving as a refugee and ending up (by way of North Africa and South America) living and teaching in San Francisco. He will be remembered for his writings on the revolution and its aftermath.
Wolfi Landstreicher is a long-time anarchist and egoist, the author of the book Willful Disobedience from Ardent Press, publisher of the egoist anarchist bulletin, My Own, pamphleteer through his project Intellectual Vagabond Editions, translator (Italian and German, with occasional forays into French) and contributor to Anarchy, A Journal of Desire Armed, as well as Modern Slavery. He has recently translated Max Stirner's "Stirner's Critics" and "The Philosophical Reactionaries" in Stirner's Critics, and is now at work on a forthcoming new translation of Max Stirner's The Unique and Its Property.
Jason McQuinn, the juggling anarchist, is a founder and was a long-time editor of Anarchy: A Journal of Desire Armed from 1980 to 2006; as well as the founder and editor of Alternative Press Review and North American Anarchist Review while they were published, and now of the Modern Slavery journal. He is now working on the long-overdue Post-Left Anarchy anthology and recently contributed introductions to Wolfi Landstreicher's translation of Stirner's Critics and the LBC edition of Raoul Vaneigem's Treatist on Etiquette (Revolution of Everyday Life).
Paul Z. Simons was born May 3, 1960 – Salt Lake City – to an unwed mother, an act under Utah state law that made both he and his mother subject to arrest and fine or imprisonment. In his words, "I was born fighting against the law, I live that way and I'll probably die that way." An anarchist and Buddhist he has consistently staked out positions that motivate towards contestation with the authoritarian structure that currently labels itself Capital and society. He has written a number of widely read pieces including "Seven Theses on Play," "Keep Your Powder Dry," a chapter in Gone to Croatan, and the Afterword for John Zerzan's Elements of Refusal.  Finally he says, "My proudest moment was participating in the Tompkins Square riot. I found out what freedom and democracy were made of – in an instant." Simons lives, works, and writes in LA.
Maurice Spira was born in Kent, England in 1944. After four years of quite traditional studies at a provincial art school, and a stint in advertising in London, he left in 1966 for the "new world." In the ensuing years 1966-74, the psychoactively enriched counter-cultural milieu in Montréal transformed him utterly. Then, after travelling and painting in Mexico during the mid-seventies, he settled in Vancouver. By the early '80s, requiring a breath of fresh air, Spira vacated the metropolis for a somewhat more rural existence on the Sunshine Coast. More than two decades later, he continues to paint and print in his Roberts Creek studio, while still finding time to grow excellent red cabbages and spuds.
Lawrence S. Stepelevich is Professor Emeritus of Philosophy at Villanova University. He served as President of The Hegel Society of America and, from 1977 to 1996, was the executive Editor of the Journal of that Society, The Owl of Minerva.
Joseph Winogrond (BA New School, MLitt Ethnology Aberdeen) studied at the University of Wisconsin under Walter R. Agard, Paul MacKendrick, Herbert M. Howe, Herbert S. Lewis and others in the classics and anthropology. After a "Flower Raj" year with the Tibetans at Benares he transferred to the New School where Stanley Diamond was teaching. In 1967 he was co-partner of the Liberation News Service, the New York wire service operated out of its basement offices on Claremont Avenue for more than 400 disparate 1960s underground newspapers. He is presently assembling a pre-market-economy dictionary of northern Europe, Wild English.
So after sitting on the fence for the better part of a year, I have to commit to support for and defense of the Rojava experiment, and particularly our comrades in the DAF (Revolutionary Anarchist Action) and the two militias the YPG (People's Protection Units, in Kurdish: Yekîneyên Parastina Gel) and the women's militia component the YPJ (Women's Protection Units, in Kurdish: Yekîneyên Parastina Jinê). Though inspired, at least according to most reports by Bookchin and specifically calling their current political status libertarian municipalism, they seem to have moved very far toward an insurrectionary society indeed. In fact the central government is essentially a husk and currently necessary only to interact with other sovereigns, without coercive elements (army and police) and with real power residing in local assemblies (which are guaranteed effective parity between Muslims and Christians and men and women). Further the addressing of police functions is outstanding. The Kurds are training all adults in how to be effective stewards of their neighborhoods and have abolished the police, or are in the process of doing so. Brilliant, when everyone is a master, there are no slaves.
So Bookchin? Who the fuck cares? A state? Yes, but moving in the opposite direction. Do all reports concur with the above enumeration? Yes, incredibly, yes. So what to do? Write, speak and support this tiny anarchist experiment in the same way one would the various social experiments in Greece or Spain. Hope that this fertile garden overgrows its boundaries, and spreads like the Black Death. And what of their opponent ISIL (Islamic State in Iraq and the Levant)? I am as opposed to them as I would be any fundamentalist lunatic, Christian, Buddhist, Stalinist or Muslim; in this case more so, because ISIL threaten anarchists, my family. In fact ISIL has been explicit in their threats to "enslave" the entire civilian population. The sole good use of the trillions wasted on US military hardware is to unleash it all on this militarized fundamentalist scum. Kill them all. Let Allah sort them out.
And that doesn't begin to enumerate all the enemies of Rojava, including other Kurds, Syria (Assad's rump regime) and the largest danger, Turkey and her control of the borders and the flow of arms to both ISIL, and the revolutionaries. And sitting behind these players is the United States, the EU, and of course the Russians, always interested in playing vicariously in the Middle East. Finally, the Kurds have oil, not lots, but they have been steady suppliers to world markets since the Second Iraqi War, a fact not lost to bond traders on either Wall Street or the City of London. Grim tidings, but not insuperable.
It has been hard to arrive at the place I am right now, and it has taken much reading and thought. This is the shortest blog post I've ever written, and the most painful. I have had to eat a lot of very humble pie to get here. Do I still think the Left is a ridiculous and vestigial organ on the body of Society? Yes, and I disdain class theory as pseudo-science and am an individualist to the bone. I also realize that the species-goal of utopia is nowhere near being reached in Kurdistan. Rather, they have moved further and faster than any other insurrection to date. In fact the current stability, of roughly two years, makes it the longest running anarchist experiment during the triumph of civilization. Then hopefully, one day the Revolution will slip beyond all control, then we will be where we need to be to finish the anarchist project; utopia. Long Live the Rojava Social Revolution! No Peace, Without Victory!
It's not that I've been bereft of ideas. One thing I try not to do is sit about the house watching movies, eating anything, and basically being four blockheads at once. Rather my curiosity has been drawn in a number of different directions, the ebb and flow of street based actions, the ennui of empire imploding, the gentle crumbling of the assumptions. From very small institutions like the Mormon church (which I fled at 19) to the stomp of millions of feet down the Champs-Elysee. Crisis, collapse, and calumny seems a fitting chorus to the Song of Capital and Nation-State. I would ask, Where to start, but a more accurate inquiry would be,"Where to finish?"
So, consider this sliver of verbiage a shot over the bow, a stab in the dark, a baby-step, a New Years Irresolution. One blog entry a month for 2015, and not like this one, but with the firmness, the clarity of cold, stiff, jell-o. See ya soon.
by Paul Z. Simons
"Eyes wide open! Eyes wide open!
Do you not realize how much horror
is contained in those three words."
– from "In the Darkroom" 1911, Maurice Level & Étienne Rey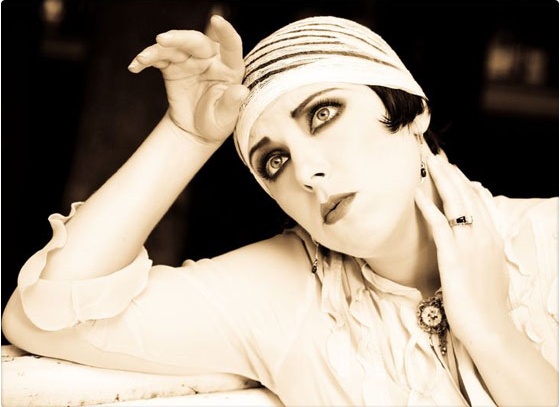 The images conjured by the mention of the Théâtre du Grand-Guignol are singular – oozing madness, amorality run riot, blood flowing by the bucketful, and intricate sadistic revenges. One imagines the conclusion of a night at the theatre off rue Chaptal where patrons stumble out into the night and vomit on the curb, and one or two of the more suggestible types faint outright in the street. A little theatre with its own house physician to tend to patrons overcome by the images, content, and presentation of the performances. The truth, of course, is somewhat different than the image, but the image lives on in spite of the actual theatre's demise in 1962, the dearth of plays translated and available in English, or any other language for that matter; indeed the virtual loss of this entire theatrical tradition. Considered by some as an example of incredibly bad French taste, like Jerry Lewis worship or taking the post-modernists seriously. Regardless, the Grand Guignol seems as dead as one of it's own brutalized and tortured victims … yet perhaps the real horror of death is contained not in its reality, but in the ultimate distrust by the living that the dead won't really stay dead for very long. And so it goes….
History
Of course I didn't jump into Grand Guignol without having the strong feeling that somewhere buried in there were some deep, twisted anarchist roots. The theatre was, after all, located just off the Place Pigalle, the natural habitat of bohemians, drug addicts, revolutionaries, prostitutes, proletarians and assorted flotsam; and this in Paris – the Mother of Revolutions, and timed in the final decade of the 19th and first decades of the 20th century. Which immediately brings to mind the great anarchist terrorists Vaillant, Émile Henry and Ravachol, and from the individualist anarchist menu, the Bonnot Gang – who, among other havoc raised, engineered and perfected the motorized bank robbery getaway. And sure enough without too much digging one uncovers the "Théâtre Libre," the first artistic move towards what would become the Grand Guignol. The Théâtre Libre opened its doors in 1887, and presented comédies rosse ("nasty comedies"), short plays that showed various aspects of the lives and language of workers, and the underclasses. The theatre was above all meant as an experiment in naturalism, which shines through during the Grand Guignol's heyday. The Théâtre Libre closed its doors due to bankruptcy in 1893, and one of its founders, Oscar Méténier, walked away from the whole experience with a few ideas. Why not stage what these Parisians liked? They read about violence, mayhem, and death daily in such scandal sheets as Le Petit Journal, and the faits divers sections of newspapers, accompanied by graphic presentations of the crimes described. Perhaps they'd pay to see some of the same. Further, what should ever really stop anyone from doing his best to offend the sensibilities of just about everyone? These two seemingly opposed notions co-existing side by side in an intimate theatre of 285 seats and a stage measuring a meager 20 feet by 20 feet – may just yield a profit.
So Méténier opened the Théâtre du Grand-Guignol in 1897, the name Guignol is slang for puppet, based in part on a popular puppet-character from Lyon (a Gallic version of Punch and Judy). Therefore Theatre of the Big Puppet – perhaps we'll return later and dig into this. A brief note about the building. Originally a Jansenist church, it was deconsecrated during the Terror and probably used for one of the areas political clubs, in the early 19th century a blacksmith's shop, briefly a church again, an artists studio, and then a theatre. A photo exists (figure 1) from 1937 of an audience watching one of the plays and in it one can see the interior is still decorated by crosses and one can also make out one of the two wooden carved angels that adorned the side panels. From the very first season, Paris knew it was in for something new, an experience of theatre that wrenched you from your seat, that scared you out of your wits, offended your wife and turned your stomach. One offering from the first two seasons shows a general direction, the play is called "Lui!" (the English version is titled "Jack"), authored by Méténier. In it two prostitutes are reading the Petit Parisien and commenting on the story of a fellow prostitute murdered horribly by a customer. Eventually a knock comes at the door – a new customer, Jack (of course everyone knows he's the killer – now it's just a question of time and method, the emotional roller coaster starts to climb the hill). The younger of the two prostitutes takes Jack into her boudoir – he pays for champagne, sleeps a bit, she finds the proceeds from his previous murder as she shakes down his pants – and just as homicide draws near the police close in and arrest him. A close call, not overly thrilling, nor particularly erotic – but a nice start.
After two years Méténier handed control of the theatre over to Max Maurey, who after familiarizing himself with Montmartre and its artists turned immediately to stamping the theatre as The Theatre of Fear. He was a master at playing on the public's impressions of the theatre, and the hiring of the house doctor was done with much publicity and it figured in many of the early reviews of the Theatre. A cartoon from the era shows a doctor examining patrons before entry to ensure that they have a sufficiently stout constitution to withstand the horrors inside. Maurey loved the cartoon so much it was included in early publicity and playbill material. Méténier also introduced Maurey to André de Lorde who for the next two decades would become the writer par excellence of the Grand Guignol style. In virtually all GG revivals at least one, and occasionally several, of his plays are included. De Lorde would always maintain a tone of naturalism in his works, and as the plays became more bloody and horror-filled he sought out help in looking into the souls and psyche of the insane and the criminal; as an example, one of his collaborators was the psychologist and Director of the Laboratory of Physiological Psychology at the Sorbonne, Alfred Binet, the developer of the Binet Intelligence test (and DeLorde's psychotherapist). A fact I find incredible, like having Jung on the set of the Texas Chainsaw Massacre to rework dialogue. A final example of this commitment to naturalism is the content of the plays, which avoid all supernatural causation; no werewolves or vampires at the GG. Rather what makes the plays so immediate is that much of the content is so damned possible; like being bitten by a rabid dog, or suffering a terrible vengeance by the hand of a jealous, crazed lover. Maurey also paid close attention to the unique stage tricks required to pull off a GG play. In this he was assisted by Paul Ratineau, effectively the theatre's stage manager, and a master of making the grisly happen (cheaply and effectively) on stage. The stage gags and tricks associated with GG are legendary and are still written about by theatre professionals. It is said that Ratineau and those managers who came later had perfected at least 9 different types of stage blood. Note that each type was for different kinds of wounds, or effects, some flowed, some stuck to the skin, another type squirted. The most popular blood at the GG actually coagulated after application – it is known that this type required heating just prior to use and "scabbed" as it cooled. A neat fact understood by return patrons of the GG who when they heard whispered from backstage – "Edmond quick! Warm the blood!" knew that things were going to get intense – and soon. One other gag that was uniquely Grand Guignol was the eyeball gouged from the socket. For this trick Ratineau used sheep eyes purchased from local butchers, they were drained of fluid and anchovies dyed red were placed (sewn? stapled?) inside. The GG stage crew were proud of the fact their stage eyeballs bounced when gouged out and squirted horrifically when stomped on. Add to this the knives with retractable blades, scissors that squirted blood, artificial limbs hacked off and you have an idea of what the audience so feared, and had paid to see. Recall also that these stage tricks were being done within feet of the first row in the audience, and there were neither retakes nor do-overs – an eye gouge had to work for every performance, perfectly. Ratineau put his skills to making all these stage tricks effective and after his leaving the theatre several other masters of the trade stepped in and developed upon his promising start.
(Read the entire article: Order a copy of MS issue #2 for $12.95 + 2.05 postage & handling from: CAL Press, POB 24332, Oakland, CA 94623. Or, we should soon have a new payment system operative on our web site at: modernslavery.calpress.org )
John Zerzan's         Twilight of the Machines
Twilight of the Machines by John Zerzan (Feral House, Port Townsend, WA, 2008) 141pp. $12.00 paperback.
John Zerzan is now one of the most well-known of contemporary North American anarchist writers and theorists, along with Noam Chomsky and Hakim Bey (and formerly, prior to his definitive renunciation of his already questionable anarchism, also Murray Bookchin). Zerzan is best known as one of the major proponents of anarcho-primitivism and green anarchy, along with Fredy Perlman and others. Beginning with his essays appearing primarily in The Fifth Estate in the 1980s (collected in his central and still most important work, Elements of Refusal), Zerzan has built an impressive edifice of documentation, critique and speculation ranging over the lifeways of nomadic paleolithic gatherer-hunters to the origins of symbolic culture and civilization to the intensification of contemporary alienation in runaway technology, hyperurbanization and the emptiness of everyday life in mass consumer society and post-modern culture. Twilight of the Machines contains Zerzan's latest essays from the new millennium, this time primarily collected from Green Anarchy. This new book follows Running on Emptiness: The Failure of Symbolic Thought and Future Primitive, both of which collected essays mostly appearing in Anarchy: A Journal of Desire Armed during the 1990s.
For the most part, Twilight of the Machines is an eloquent call for each of us to face the appalling predicament of the entire human species as the globalizing spread of modern techno-industrial civilization continues to destroy the natural world, degrade what's left of face-to-face communities, and lead human society towards an impending global collapse. While not light reading by any means, the essays in Twilight of the Machines are all fairly short (the longest seems to be only 11 pages). And although the book might seem a bit thin at 141 pages, the short format, like that of his previous two collections, will most likely make it more approachable for a larger range of potential readers than a more intimidatingly long volume might. One small problem is that since the book consists of a collection of relatively short essays often dealing with similar or parallel topics, there is a fair amount of repetition of arguments. For example, the same general (and accurate) criticisms of postmodernism sometimes appear in one form or another in essay after essay.
        Zerzan's forte has been the persistent raising of basic questions which have expanded the realm of radical investigation and critique into areas heretofore too often avoided, marginalized or ignored.
Zerzan's forte has been the persistent raising of basic questions which have expanded the realm of radical investigation and critique into areas heretofore too often avoided, marginalized or ignored. Even, or maybe especially, for those who disagree with his overall speculations and conclusions, this has led to a widening of awareness of the deep roots and pervasive extent of our contemporary predicament. This alone makes John Zerzan's a highly important voice to be reckoned with by all radicals who are serious about exploring the full extent of what is needed for the abolition of capitalism, the state and the other forms taken by social alienation and enslavement. However, this valuable expansion of investigation and critique has from the beginning been accompanied by often seemingly reified or even Manicheaen conceptions of the origins of human alienation. Following publication of Fredy Perlman's seminal critique of civilization in
Against His-Story, Against Leviathan
, Zerzan indicted agriculture, language, art and number as centrally complicit in the origin and development of civilization. And since then, he has continued to focus his critiques more and more tightly on division of labor and the whole range of symbolic culture as the generative principles of human social and natural alienation.
Central to many of Zerzan's arguments is a scorched earth attitude in which just about any particular aspect of life which has been colonized to any significant degree by capital, state, technology or ideology is deemed to be not accidentally, but essentially complicit with the domination and alienation of techno-industrial civilization and, thus, to be in need of complete removal. No nuanced analyses or shades of gray are allowed. Everything is simply black and white, and you're either for (his vision of ) life or against it. In many essays, an army of quotations and notes from an array of writers and texts (some revealingly relevant, but others at times rather irrelevant) are marshaled to the particular task at hand of critically destroying whichever aspect of life is targeted this particular time (the essays on the origins of civilization in Elements of Refusal on agriculture, language, art and number are paradigmatic here). If he was a physician, Zerzan's diagnosis would appear to always be the same, complete corruption, with amputation of the offending body part the only solution ever offered.
Twilight of the Machines opens with "Too Marvelous for Words," contrasting language as "a powerful instrument for technological and social disenchantment" with the alternative of direct, unmediated presence (though he never explains what it could possibly mean for unmediated presence to be – self-contradictorily – "enchanted"). For Zerzan, it seems, everything about language (and symbolization in general) is bad news and not just unnecessary, but even (at least metaphorically) pathological. No attempt is made to chronicle any redeeming qualities of human communication through use of languages. Nor, does it seem, is there any possibility within his perspective for the existence of any worthwhile, freely-chosen, unalienated linguistic communication at all. Radical writers and theorists who might distinguish the ideological debasement of language from more convivial and authentic linguistic communication are simply ignored. In Zerzan's view it is language itself which is inescapably ideological. At one point he argues that: "The grammar of every language is a theory of experience, and more than that, it's an ideology." (p.5) Beyond this, Zerzan repeatedly argues throughout the book that all use of language (and other forms of symbolic communication) is necessarily alienating. But somehow it must be possible to use grammar and language in at least relatively non-ideological ways, else why does Zerzan continue to speak and write his critiques rather than foregoing writing and speech for the more direct communication he advocates? And if Zerzan can make worthwhile use of language for liberatory purposes is there any reason why anyone else should not do the same, while leaving behind the self-contradictory, ideological weight of a dogmatic denunciation of all symbolic culture?
In "Patriarchy, Civilization and the Origins of Gender" Zerzan asks if patriarchy and civilization are "at base synonymous?" He argues that (the history of) "Civilization…is the history of the domination of nature and of women," (p.11) leaving out the inescapable fact that civilization has always also included the domination of men. In fact, civilizations seem to have involved the progressive institutionalization of political, economic and social domination of anyone and everyone caught in their nets of control.
Inevitably, the critique of symbolic culture in itself as the prime cause and motor of human alienation will continue to be viewed skeptically by most radicals, since the development of alienation is more plausibly described and explained as a larger social process in which particular aspects of symbolic culture are progressively reified, enlarged and turned against the individual and society, just as aspects of every other sphere of human life are progressively reified and turned against us. The identification of a fundamental and seemingly prime cause of human alienation which can be potentially separated, isolated and demonized will inevitably appeal to some of those who prefer relatively easy answers to highly complex questions. But there is no evidence that symbolic culture in itself is necessarily a form of human alienation. However much symbolic culture may involve less direct and more abstract forms of interaction with the human and social world, these forms of interaction are never in themselves necessarily alienating. The systems of symbolization and highly complex forms taken by communication using these systems will certainly always be fraught with opportunities for the creation of ideological justifications and apologies for alienating human activities and relationships. But just as certainly, these same complex forms of symbolic communication can also be used to expose and subvert ideologies. They are not themselves simply and reductively identical with ideology.
Similarly, social alienation does not arise in every instance of the division of labor – at least not in every instance as long as the freely-chosen coordination and division of convivial tasks also falls under this label. (And if it doesn't, where else is it being hidden in Zerzan's writings?) There is never a problem if one person enjoys hunting and another leisurely gathers in order to share the fruits of their activities later. Nor is it a problem if one group of people in a community builds a house while another group gardens and others pursue different complex tasks they set for themselves in coordination with their families and friends. Rather it is the forced division of labor that always involves human social alienation. It is when people are enslaved, trapped in their activities, see no way out and eventually stop trying to escape from their prisons that they alienate their activities and lose sight of their original desires to live freely.
The important aspect of truth in Zerzan's formulations is that as the various forms of human social activity and communication become more abstract, complex and distancing they become less and less likely to be freely desirable or communally sustainable absent self-alienation. The more elaborate and rigid that divisions of activities become, and the more intricately systematic their required symbolic and technological infrastructures, the more likely it will be that these divisions of labor and complex infrastructures will also require manipulation and, ultimately, force to maintain them. In this process their human participants begin to mimic the behavior of machines in order to fulfill their roles in an increasingly alienating division and coordination of tasks. And the more human beings reduce themselves to machinelike activities, the more likely they will then be further forced to do so – rather than participating of their own genuinely free wills – in the ever-intensifying process of self-alienation and its accompaniments, forced labor and its ideologies.
Possibly most interesting in Twilight of the Machines, at least in relation to the general theme of the Modern Slavery journal project, is Zerzan's essay on "Globalization and its Apologists: An Abolitionist Perspective." Here he explicitly aims his anarcho-primitivist critique at "our century's version of slavery." He plausibly identifies the rise and spread of domestication with the rise and spread of civilization. And he definitely understands that (in his terminology) "globalization" – understood as the latest stage of domestication and civilization – is so overwhelmingly parasitic on our lives that it is now threatening to overwhelm and destroy its hosts. But he is nowhere able to focus on the process of self-alienation itself as the target for abolition, rather than the particular places it happens to inhabit.
In any case, it is abundantly clear that modern divisions of labor, technological systems and their mass consumer cultures have long passed the point of no return for potential desirability or sustainability in any humanly free and consenting ways.
Review by Jason McQuinn