So after sitting on the fence for the better part of a year, I have to commit to support for and defense of the Rojava experiment, and particularly our comrades
Modern slavery should need no introduction. Modern slavery already intrudes into every aspect of life, debasing all it touches. It is the underlying organizing principle for all major economic institutions east and west, north and south. Its support and defense are the unspoken but automatically-understood objects of all major – and the vast majority of the minor – social, political and cultural institutions. Its infrastructure and demands extend into the deepest levels of modern consciousness, coloring our dreams as well as our nightmares. Yet modern slavery is largely invisible.
Modern slavery is officially non-existent. It has been tossed down the memory hole. It is not spoken of in polite company. Every institutional and government functionary, from the lowest levels of bureaucratic purgatory to the upper levels of elite power, knows instinctively that any explicit mention of its name as a contemporary reality means instant social death within the hierarchy. It is a rare day when it is acknowledged in any public context, even by the most radical or reckless of iconoclasts. » Read more..
Free Radical Radio:
Jason McQuinn interviewed on Critical Self-Theory
by Bellamy
.
.
.
.
.
Bellamy interviews Jason McQuinn about his essay "Critical Self-Theory," playing devil's advocate by voicing some criticisms with which he is familiar but doesn't share. Later, they discuss free will (42:45); the journal, Modern Slavery (45:05); and what a post-left anarchist praxis might be (54:47). "Critical Self-Theory" appears in Modern Slavery #3. The interview took place on February 26, 2015.
Free Radical Radio:
Lawrence Jarach interviewed on Post-Left Anarchist movement critiques
by Bellamy
.
.
.
.
.
Bellamy interviews Lawrence Jarach, an editor of AJODA – Anarchy: A Journal of Desire Armed, and author of such essays as "Leftism 101," "Why I Am Not an Anti-Primitivist," and "Essentialism and the Problem of Identity Politics."  Bellamy and Lawrence discuss the rhetoric of civil disobedience in regard to the recent Ferguson protests, anarchists representation in the media and the value or lack thereof, big tent anarchism and the idea that everyone is an anarchist, the distinction between anarchy and anarchism, humanism as a relic, and more. The interview took place on February 09, 2015.
Horizontal Power Hour:
Episode 14: Harold Barclay and Lawrence Jarach
by Zak and Dan
.
.
.
.
.
Zak and Dan present interviews with Dr. Harold Barclay and Lawrence Jarach, in addition to anti-authoritarian action news updates from around the world and music from the Dead Kennedys, VC, Ska-P and Polkacide throughout. Harold Barclay lectured in anthropology at University of Alberta for nearly a quarter century and is well-known for several contributions to the anarchist discourse including People Without Government: An Anthropology of Anarchy and The State. He discusses his work and the relationship between anarchy and anthropology, and offers reflections on recent events in Egypt, where he did extensive fieldwork. Lawrence Jarach is an American anarchist essayist whose work has been central to the internal critique of anarchism known as post-left anarchism. He has published widely and co-edits Anarchy: A Journal of Desire Armed. He discusses post-left anarchism. Original air-date: 3-22-11
Fire Relief for AK Press & Friends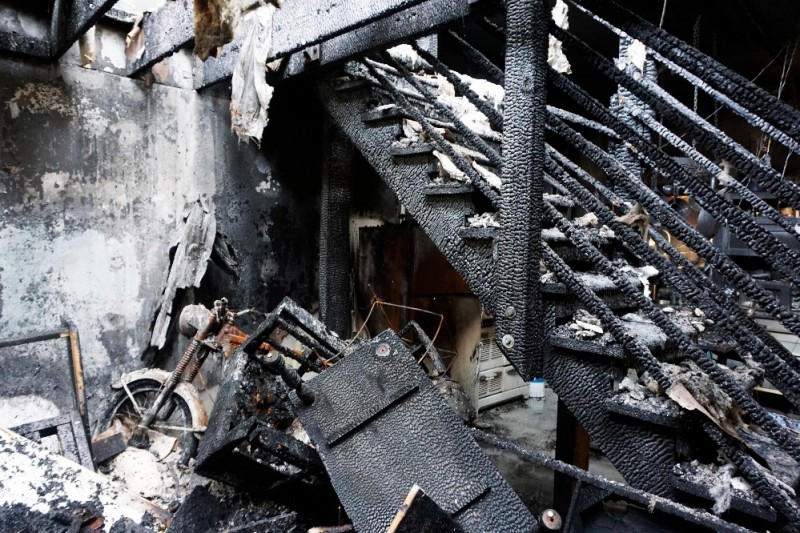 In the early morning of March 21, the building behind AK Press caught fire. Two people lost their lives. The fire  moved to the mixed-use warehouse building AK shares with 1984 Printing and 30+ residents. Everyone in the AK building got out safely, but several units were completely destroyed. There was extensive water and smoke damage to other units, including the ones occupied by AK Press and 1984 Printing.
On the afternoon of March 24th, the City of Oakland red-tagged the building, which prohibits AK from occupying it. AK doesn't don't know how long this will last, but it obviously means AK can't conduct business as usual.
Many of you support what AK Press does. Although many of our readers may not realize it, among many other publications AK also distributes Modern Slavery. A lot of people have been asking what is the best way to help AK in the midst of this disruption. AK reports that already the outpouring of support and mutual aid has been amazing, and AK has raised some emergency funds from donations via PayPal and has organized the coordination of a larger fund drive. Please consider helping out AK.
Comments Off on Fire Relief for AK Press
My Date With Sam Dolgoff
(a shared memory)
( Note: the "My Date…" series of articles stretches back as far as the mid 1980's and was begun by an article written by a woman attendee at anarchist functions in NYC. Her article, My Date with Holly Near, is a brief fluffy piece about an outing she and the singer had which evidently ended in some very earnest and breathy sex play. At that time Holly Near had dated (and fucked) almost every identifiable female anarchist in NYC, and the article may have been an attempt to record this historic campaign for posterity. Shortly thereafter Bob McGlynn wrote his "My Date with Holly Near," which is a fantasy piece in which he and the singer drink beer, go bowling, and then stomp the lungs out of a bunch of malicious bikers. By far the most famous entry is Bob Black's My Date with Jim Hogshire, which is an account of the notorious evening of February 10/11, 1996, where Black, who was to stay at Hogshire's place, had a falling out with his host, allegedly groped Hogshire's wife, was threatened with an M1 rifle and then was shown the door. This resulting article is classic Bob Black, and the vengeful aftermath includes a court case that stemmed from an issue Hogshire had with the local constabulary regarding the legality of making opium tea out of dried poppies purchased at florist shops. Hogshire unfortunately still has not written what he may have been put into this world to write, the response titled My Date with Bob Black.)
Suffice it to say that by 1985 or so I had become an anarchist with all the attendant vices and virtues, I hated the state, I lived on the Lower East Side, I attended interminable meetings; I read much and worked little. The city had two operating anarchist groups that I knew of, and I was a part of both, the Libertarian Book Club, and the Anarchist Switchboard. There were a lot of folks through each of these, but mainly a hardcore group of about 20 souls maintained the beating heart of anarchy in those foul years of Reagan and his ilk, which proved the truism that in any society the scum eventually rises to the surface to be drained off by history. I had been friends with Lauren for several months and she had called, said she was on her way to see Sam Dolgoff and invited me along. I met her at the Anarchist Switchboard that March afternoon in a cold, pouring rain. She said that we should just walk to his apartment as, other than busses, no trains would put us anywhere near his place. I asked where that was and she said that he lived in a building for retired members of the NY painters union. There are dozens of these union administered retirement buildings throughout New York, and though they resemble housing projects, the insides are better kept, and they have built-in meeting rooms and offices, some for the unions, some for rent. The Libertarian Book Club's monthly events were held at a large meeting room in a union retirement home a few blocks down Seventh Avenue from Madison Square Garden. Even then, and in spite of the prevailing political climate, the unions would let the anarchists use the room—it was pretty cheap too. Lauren had made it her business, at the young age of 20, of bouncing around New York and introducing herself to as many of the old time anarchists, the Dolgoffs, the staff of the then recently defunct Freie Arbeiter Stimme (The Free Voice of Labor)—the Yiddish anarchist newspaper that had been going since the twenties, Vilario—an old Italian gentleman who at one time was involved both with the Galleanist's and (it was rumoured) also Malatesta. Finally she had met Mel Most, who it was believed was related to Johann Most—a cousin or nephew—who for years had been running an outreach and service agency for prostitutes working on the Lower East Side. So this trip to the Dolgoffs was just her doing her best to string these old time anarchists to the younger punk anarchist scene—I guess to maintain some semblance of continuity.
Comments Off on My Date With Sam Dolgoff
It had to happen, was only a question of time really, that somewhere some unlucky police/espionage/or military agency would inadvertently recruit and train an individual with a conscience of sufficient substance such that you can't pass your hand through it.
It makes perfect sense that the Los Angeles Police Department drew the unlucky number. Without rehashing the history of this sorry-ass agency, the beatings of black motorists, with supervisors watching and applauding, the false testimony that convicted hundreds sending these poor folks to prison, and finally like a phoenix rising from the ashes leaving behind the entire sordid mess to once again come crashing down into the shit that these officers wallow in and call a career. Two steps forward, six steps back…
Enter Chris Dorner, trained killer, Navy man, and ex-LA cop who during a training run witnessed a training officer assault, kick and beat a homeless, helpless mentally ill man just for the fun of it–I guess. I mean I believe the LAPD thinks its fun because they sure as hell do enough of it. Dorner was thrown off the force and has now turned on his previous oppressor/employer in what can only be called a wage slave revolt of furious intensity, and deadly precision.
Therefore, I ask– I implore all anarchists who may find themselves in a position to assist Dorner to reach a country without extradition to do so, and to provide to him with all aid, comfort, and protection possible–before the law and order bloodhounds shoot him down in his tracks. And in the unlikely chance Chris Dorner reads this, your heart beats with mine and many others. If you can–stay alive to tell your story, either with words or bullets–Stay Alive!
Comments Off on All Aid, Comfort and Protection
Bob Black is author of many interventions, as well as a number of books, including The Abolition of Work and other Essays, Anarchy after Leftism, Beneath the Underground and Friendly Fire, along with the yet-to-be-published, Nightmares of Reason, and his latest work, Defacing the Currency: Selected Writings 1992 – 2012. He has contributed to many periodicals, including Anarchy: A Journal of Desire Armed.
Susannah Clemence. "Forty-odd years ago in a blacked-out West London bathroom, I was shown how to rinse a silkscreen. A bayonet-armed soldier charged above the slogan,
`DO NOT ADJUST YOUR MIND THERE IS A FAULT IN REALITY'
I want to address the fault. To confront reality, we must see it as it is — that is the function of my art."
Chuck Dodson. "Self-taught critical thinker, into mixing creatively intelligent surrealism with decolonization awareness. WalkiNg with post-left anarchist critique (tho realizing the value of confrontational nonviolent-orientations) and unsettling settler mentalities, via a self-theory of continual process-oriented "span-aRchy"; –keeping "spans" or informal bridges with aLL human beings (not roboticized machines), while systematically demystifying social control alienation tacts. A deep background in queer and youth solidarity dariNg, amongst a wide swath of other topics. Seeking not `revolution' but evolution of mind-set, walking thru FEARs as a spirituaL path. (da Visionary Report is one of his projects.)
Karen Goaman has a PhD in Anthropology, University College London. She has written numerous articles in anthologies (2009, Jun & Wahl eds., New Perspectives on Anarchism; 2008, Roca Martínez ed., Anarquismo y Antropología; 2004, Purkis & Bowen eds., Changing Anarchism; 1997, Purkis & Bowen, Towards a 21st Century Anarchism) and in Anarchist Studies. She has worked as a Senior Editor in book publishing and as a part-time Lecturer in Communications at London Metropolitan University.
Manolo Gonzalez grew up a child of the Spanish Revolution in Barcelona, before leaving as a refugee and ending up (by way of North Africa and South America) living and teaching in San Francisco. He will be remembered for his writings on the revolution and its aftermath.
Wolfi Landstreicher is a long-time anarchist and egoist, the author of the book Willful Disobedience from Ardent Press, publisher of the egoist anarchist bulletin, My Own, pamphleteer through his project Intellectual Vagabond Editions, translator (Italian and German, with occasional forays into French) and contributor to Anarchy, A Journal of Desire Armed, as well as Modern Slavery. He has recently translated Max Stirner's "Stirner's Critics" and "The Philosophical Reactionaries" in Stirner's Critics, and is now at work on a forthcoming new translation of Max Stirner's The Unique and Its Property.
Jason McQuinn, the juggling anarchist, is a founder and was a long-time editor of Anarchy: A Journal of Desire Armed from 1980 to 2006; as well as the founder and editor of Alternative Press Review and North American Anarchist Review while they were published, and now of the Modern Slavery journal. He is now working on the long-overdue Post-Left Anarchy anthology and recently contributed introductions to Wolfi Landstreicher's translation of Stirner's Critics and the LBC edition of Raoul Vaneigem's Treatist on Etiquette (Revolution of Everyday Life).
Paul Z. Simons was born May 3, 1960 – Salt Lake City – to an unwed mother, an act under Utah state law that made both he and his mother subject to arrest and fine or imprisonment. In his words, "I was born fighting against the law, I live that way and I'll probably die that way." An anarchist and Buddhist he has consistently staked out positions that motivate towards contestation with the authoritarian structure that currently labels itself Capital and society. He has written a number of widely read pieces including "Seven Theses on Play," "Keep Your Powder Dry," a chapter in Gone to Croatan, and the Afterword for John Zerzan's Elements of Refusal.  Finally he says, "My proudest moment was participating in the Tompkins Square riot. I found out what freedom and democracy were made of – in an instant." Simons lives, works, and writes in LA.
Maurice Spira was born in Kent, England in 1944. After four years of quite traditional studies at a provincial art school, and a stint in advertising in London, he left in 1966 for the "new world." In the ensuing years 1966-74, the psychoactively enriched counter-cultural milieu in Montréal transformed him utterly. Then, after travelling and painting in Mexico during the mid-seventies, he settled in Vancouver. By the early '80s, requiring a breath of fresh air, Spira vacated the metropolis for a somewhat more rural existence on the Sunshine Coast. More than two decades later, he continues to paint and print in his Roberts Creek studio, while still finding time to grow excellent red cabbages and spuds.
Lawrence S. Stepelevich is Professor Emeritus of Philosophy at Villanova University. He served as President of The Hegel Society of America and, from 1977 to 1996, was the executive Editor of the Journal of that Society, The Owl of Minerva.
Joseph Winogrond (BA New School, MLitt Ethnology Aberdeen) studied at the University of Wisconsin under Walter R. Agard, Paul MacKendrick, Herbert M. Howe, Herbert S. Lewis and others in the classics and anthropology. After a "Flower Raj" year with the Tibetans at Benares he transferred to the New School where Stanley Diamond was teaching. In 1967 he was co-partner of the Liberation News Service, the New York wire service operated out of its basement offices on Claremont Avenue for more than 400 disparate 1960s underground newspapers. He is presently assembling a pre-market-economy dictionary of northern Europe, Wild English.